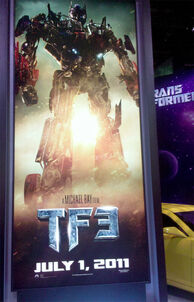 Welcome to the Transformers 3 Wiki!
Edit
Transformers 3 Wiki is a collaborative website about the Transformers 3 film that ANYONE can edit!
Transformers 3 Wiki
Edit
Welcome to the Transformers 3 Wiki, The largest Transformers 3 webiste so far on the web! This site was formerly the nonfamous Starscream7 Wiki (The name stunk), so we are transporting all of our info here! Now lets get down to some Trans-editing business. We highly appreciate all edits that you preserve, mistakes or not. We appreciate you having an account as well so you have a name! Having an account allows us to communicate with you easier. So come on! Lets get Trans-editing! You might want to read the rules before you do so. Don't hesitate to contact any of the admins (So far being me, Starscream7). If you are new here, go ahead and create an account!
Latest activity
Edit